Andrew Ross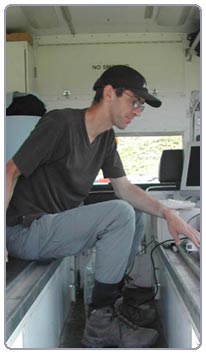 Position
Associate Professor in Dynamical Meteorology in the Atmospheric Dynamics group.
Contact details
Dr Andrew Ross
Institute for Climate and Atmospheric Science
School of Earth and Environment
University of Leeds
Leeds, LS2 9JT
UK

Phone: +44 113 343 7590
Fax: +44 113 343 5259
Email: A.N.Ross@leeds.ac.uk
Research Interests
Flow over orography.
Turbulence closure schemes for boundary layer flow.
Dynamics of flow in forest canopies.
Cold air pooling / fog formation in valleys
Gravity currents and their application in the atmosphere.
Any other interesting problems in geophysical fluid dynamics.
More details and list of publications.
Other random interests
I play 2nd baritone with Otley Brass Band.
Plplot graphics library developer.
Living so close to the Yorkshire Dales I like to get out walking whenever I can.

Back to home.

Top of page.
---
Andrew Ross &ltA.N.Ross@leeds.ac.uk&gt Last updated: 22 Sep 2005